Bonino The Pens Hero in OT
The Penguins are off to the Eastern Conference Final thanks to Nick Bonino's OT winner in Game 6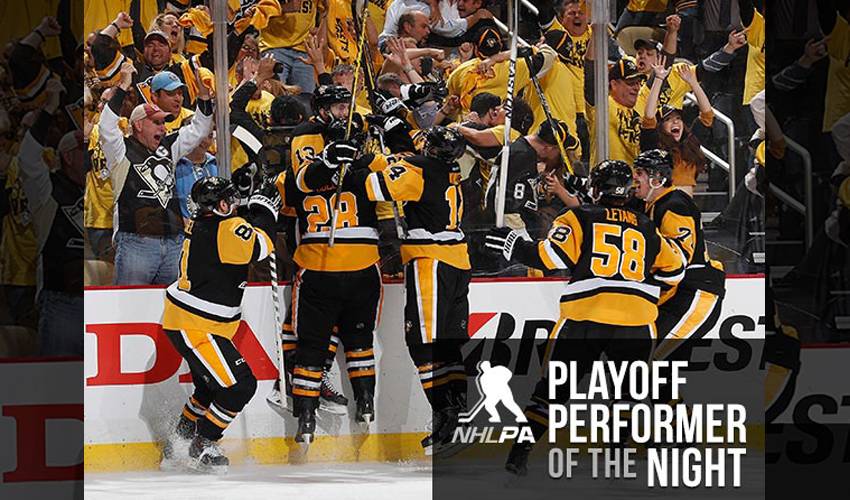 Nick Bonino rules the PPOTN roost after scoring the OT winner against Washington in Game 7 of the Eastern Conference semifinals.
The centreman netted the series-clinching tally at 6:32 of the extra frame for the 4-3 victory.
STAT PACK: Bonino had three shots on goal, was a plus-2, recorded one blocked shot and took 27 shifts for 18:07 of ice time.
NOT A BEAUTY?: "I just went to the front," said Bonino. "The puck always ends up there and I was able to get a stick on it. It wasn't pretty, but they're usually not."
OVER AND OUT (OF PLAY): "It was the worst feeling I think I ever had in hockey when I whacked the puck out of play," admitted Bonino. "Then Cole did it after (Kunitz) did it. That's something you'll never see."
EVERYBODY CONTRIBUTES: "It shows the depth of our team," said Bonino. "We've had it all year."
SEEING STARS: Bonino appeared in nine games with Anaheim in 2009-10, scoring his first NHL goal. And what a memorable tally it was. "The guys on the ice when I scored were Teemu Selanne, Corey Perry, Lubomir Visnovsky and Scott Niedermayer," recalled Bonino. "It was surreal to be out there with so many talented players."
CLASS ACT: "I looked up after I scored and Teemu is digging the puck out of the net," Bonino remembered. "We got back to the bench and he leaned over to me and said, 'I'm really happy for you. I still haven't forgotten my first one. Enjoy it.' That's a great way to talk about Teemu. What you see on TV is who he is in real life."
GAME CHANGER: Bonino, who was acquired from the Canucks last July, scored his third career playoff overtime goal (10 OT games played) and second in a series-clinching victory (also Game 6 of 2014, First Round at DAL, with Anaheim).
HONOURABLE MENTIONS: Phil Kessel had two goals and one assist for the Penguins. Justin Williams had one goal and an assist, while Alexander Ovechkin and Nicklas Backstrom each contributed two assists.