Crosby & Pens Claim Game 2
Sidney Crosby broke an 8-game scoring drought with the OT winner to tie the Eastern Conference Final 1-1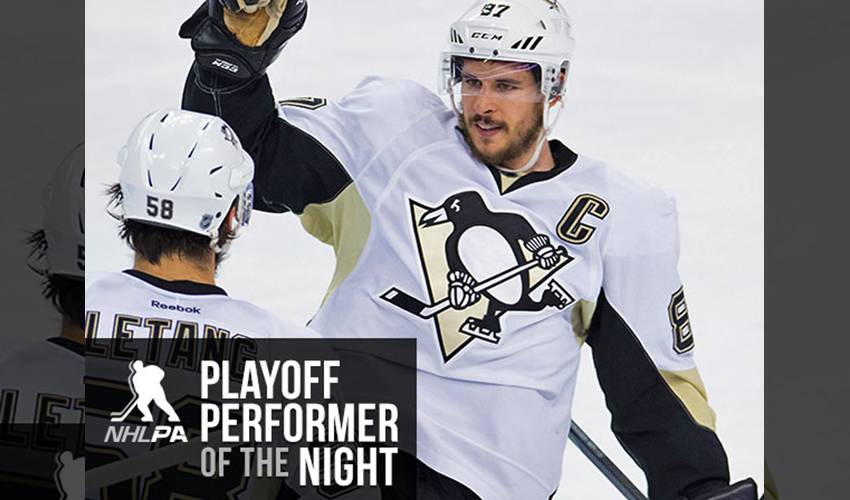 Sidney Crosby skates off with PPOTN honours after scoring the OT winner as Pittsburgh took Game 2 of the Eastern Conference Final.
The captain ended the contest early, lighting the lamp just 40 seconds into the extra frame for the 3-2 win.
STAT PACK: Crosby took six shots on goal, dished out five hits, had one takeaway, and took 27 shifts for 18:07 of ice time.
A FIRST FOR SID: "It feels good to get rewarded," said Crosby, who netted the first overtime playoff winner of his NHL career. "I feel we deserved it tonight."
STATE OF MIND: "I thought we just had the right mindset going into the third," said Crosby. "We played on our toes. We were aggressive. It's a 2-2 game, and I think we just had the right mindset, and I think everyone just kind of helped each other create momentum and making it easier on the next line that went out there to hopefully get out there against a tired group or get them on their heels a bit, and we were able to finally get one there in overtime."
HAPPY BENCH BOSS: "I'm glad Sid got the overtime winner," said Pittsburgh head coach Mike Sullivan. "I think he got rewarded for a hard effort tonight."
DON'T STOP BELIEVING: "He worked hard all game," noted Penguins forward Evgeni Malkin. "He played right and it was a tough game. He's our leader and we believe in him and we believe in everyone here."
YOUNG GUN: Crosby became the youngest captain in NHL history (19 years, 9 months) and youngest captain in NHL history to lead his team to a Stanley Cup title (21 years old).
VINTAGE YEAR: In 2007, Crosby became the youngest scoring champion (120 points), youngest Ted Lindsay Award recipient and second-youngest league MVP (Wayne Gretzky).
AWESOME AWARD: On what it means to win the Ted Lindsay: "It means a lot. It's a huge honour to win this, one where you're recognized by the guys you compete against every night. I have a great appreciation for that."
WHO IS THAT MASKED MAN?: His father Troy was a goaltender for Verdun of QMJHL and was drafted by Montreal in 1984.
SHARING A DAY: Crosby shares the same birthday (August 7) as MLB star Mike Trout, Toronto Raptors standout DeMar DeRozan, actress Charlize Theron and actor David Duchovny.
HONOURABLE MENTIONS: Matt Cullen and Phil Kessel each had a goal for the Penguins. Kris Letang and Brian Domoulin were both a plus-2. Jonathan Drouin and Anton Stralman each tallied for Tampa Bay.