Sheary Shows His Worth in OT
Connor Sheary popped the overtime winner as the Penguins took a 2-0 series lead in the Stanley Cup Final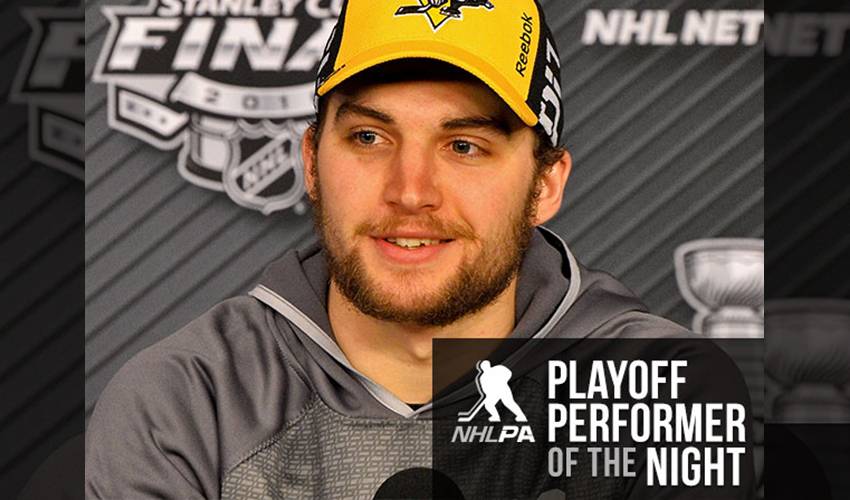 Conor Sheary is the PPOTN honoree after his winning goal in Pittsburgh's Game 2 triumph over San Jose.
The left-winger lit the lamp in overtime as the Penguins downed the Sharks 2-1 on Wednesday night.
STAT PACK: Sheary had two shots on goal, was a plus-1, recorded one takeaway, and took 24 shifts in 15:59 of ice time.
SID'S STRATEGY: "Sid came up to me before the draw and told me to line up on the wall," said Sheary. "We hadn't really done that before. He said he's going to wing it back and Tanger (Kris Letang) is going to find me in the soft area there. Found it pretty perfectly."
PUTTING IT IN PERSPECTIVE: "It's surreal," said Sheary. "Important moment. Most importantly, we got a win and we're up 2-0 right now. It's a good momentum shift for us."
NEED FOR SPEED: " I think that's the identity of our team," offered Sheary. "Coach has been trying to implement that all year. I think a lot of guys have bought into that system. It's not always about speed, it's about playing quick, getting pucks up, getting pucks in. I think when we do that, play in people's face, we overwhelm teams. It's been working out well for us."
FITTING IN: "I also think with each time that Conor's got called up, I think he has more of a comfort level of what the expectation is and how he has to play in order to be successful," said coach Mike Sullivan. "Part of me thinks that's the evolution of young players when they're trying to establish themselves in this league. There's a learning process that players go through. They realize how hard it is, that they've got to bring the same effort and the same performance and the same execution night after night after night. That, I think, is what separates NHL players from the rest of the world, is their ability to continue to bring a consistency of play that comes to be the expectation. I think Conor has learned that. He's not the only one. The young players, I think they all go through that evolution."
EARLY BIRTHDAY GIFT: Sheary's OT winner came one week before he turns 24.
BIRTHDAY BOY: Sheary shares a birthday (June 8) with rapper Kanye West, actress Julianna Marguiles, actor Jerry Stiller and singer Nick Rhodes (Duran Duran).
EARLY CHRISTMAS PRESENT: Sheary scored his first NHL goal (and also added an assist) on December 18, 2015, against Boston.
MY HOMETOWN: Sheary hails from Winchester, Massachusetts. Other notable people from Winchester include former NHL players Glen Murray and Jay Pandolfo, Brad Whitford from rock group Aerosmith and former MLB player Mike Pagliarulo.
HONOURABLE MENTIONS: Phil Kessel had the other goal for the Penguins. Justin Braun scored for the Sharks.