Marner's days of anonymity are over
There was a time, not so long ago, when Mitch Marner could walk down Toronto streets pretty much unnoticed. Things have changed.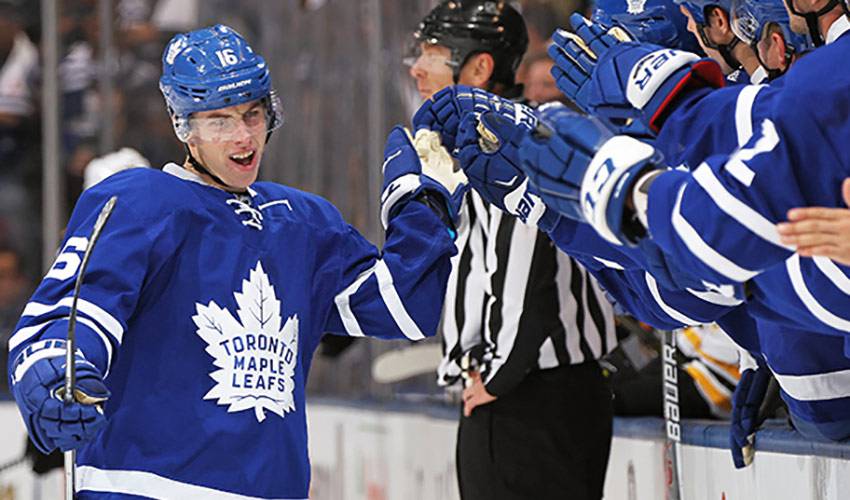 There was a time, not so long ago, when Mitch Marner could walk down Toronto streets pretty much unnoticed. Things have changed.
Sitting down for a quick bite to eat minutes before he's about to take part in Smashfest, the annual summer charity ping-pong tournament headed by NHL veteran Dominic Moore, the 19-year-old Marner doesn't look out of place hanging out with seasoned big-league players.
Just months before the Maple Leafs first regular season game on October 12 in Ottawa, the forward admitted he hadn't had much, if any, interaction with Toronto fans during his time in the city.
"No, it was quiet," said the fourth overall pick in the 2015 Entry Draft. "Walking around town, just looking at all the scenery, it's beautiful to be in this city, to see things like the CN Tower every day – it's a real blessing. I feel very lucky to be in this situation."
The days of anonymity are over.
From the start of the NHL campaign, the former Ontario Hockey League standout with the London Knights has played like he's belonged in the bigs, putting up six points in nine games, while earning plenty of praise along the way from Leafs brass, teammates and supporters alike.
Marner was front-and-centre in a recent 3-2 home win against Florida, assisting on all three goals – including a no-look beauty on the final Toronto tally off the stick of Tyler Bozak. He was also named First Star for his efforts.
It's the type of outcome the player who was raised in Thornhill – just over a 30-minute drive from Toronto – thought of often prior to the puck drop on the 2016-17 season.
"The summer was great," he said. "I was able to spend a lot of time with my family. Just being home was nice. And I'm not going to complain about the home-cooked meals. It was a lot of fun. It's good having that before the season starts up. But, you do think about hockey a lot, especially as the season gets closer. You hope you can help the team win."
Part of a Leafs group that includes some seriously impressive young talent, including William Nylander, the eighth overall pick in 2014, and Auston Matthews, the No.1 selection in 2016, Marner is fitting in fine on and off the ice.
"I feel very special to be part of the Leafs Centennial Season," he said. "The bottom line for me is that I just want to contribute every game in whatever I way I can. When I'm on the ice, you look to create something positive for the team."
It's exactly the type of approach that makes people take notice, whether you're streaking down the wing, or walking down the street.